Son Doong cave - How to get there
---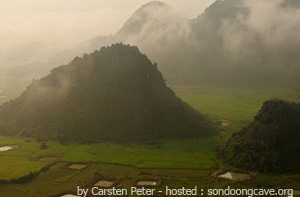 Son Doong cave is world's largest cave, located in Son Trach, Bo Trach District, Quang Binh province, Vietnam. It is situated below another cave in Phong Nha-Ke Bang, though its entry passage is very difficult to traverse. The exploration team said they had set foot on just 6.5 kilometers along the cave, as there is a large amount of fast flowing water inside Son Dong. It takes explorers 6 hours of walking through a 10 kilometer long forest path from Truong Son Highway to reach the mouth of Son Dong cave.


View more Detail about Son Doong cave, Cave exploring trips, View Detail map, Videos, All The most beautiful Photos & gallery, News about Son Doong cave.

Best Tailor Made Private Asia Tours: Vietnam, Cambodia, Laos, Myanmar, Thailand, Indonesia, Malaysia...