Son Doong Cave - Map
---
After Son Doong cave exploring trip, in the presence of scientists DHKH School of Natural landforms (Prof. Dr. Vu Van Phai, Dr. Nguyen Hieu), the American Cave (Dr. Darryl R.), biologists from Newzeland (TS. Annete B.) and the Institute of Geography, Institute of Science and Technology of Vietnam (Nguyen Huu Tu CVC., MA. Vu Anh Tai), cave explorers (Howard L., Deb L., Paul I ., Robine GS, Jonathan S., Howard C.) filmmakers (Chairman James K., Patrick K. director, Simon R. cameraman, assistant cameraman Dan E., Paul R. audio) and journalists (writers Mark D., Carsten P. photography, photography assistant, Robert S.) of TV channels and magazines, National Geographic (NG). Along with the participation and assistance of 23 local people including Mr. Ho Paul - who discovered the cave paint line, officials of the national park of Phong Nha - Ke Bang (Mr.Hien), Immigration Department Quang Binh (Mr. Ocean) and the Ministry of Culture, Sport and Tourism (Mr.Long). Son Doong cave Map is outlined by Dr.Nguyễn Hiệu: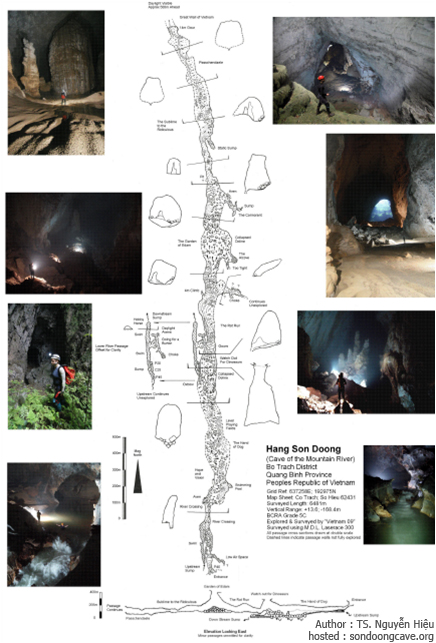 Son Doong cave Map - outlined by Dr.Nguyễn Hiệu


Width : > 200 meters
Height : 150 meters
(The largest chamber of the cave is judged to be 250 meters in height)
Length : approx 9 kilometers

Video about Son Doong Cave Map. Click here more videos about Son Doong cave


View Overview about Son Doong cave, All Photos & gallery, How to get there Son Doong Cave, News about Son Doong cave.