Saudi Arabia Crown Prince discovers Son Doong Cave
---
In the afternoon – February 11, 2014, at Saigon – Phong Nha hotel, Quang Binh People's Committee celebrated a party for the Crown Prince of the Abu Dhabi Emirate, who has successfully conquered the world's largest cave Son Doong, also was the first person to enter this cave in the year 2014.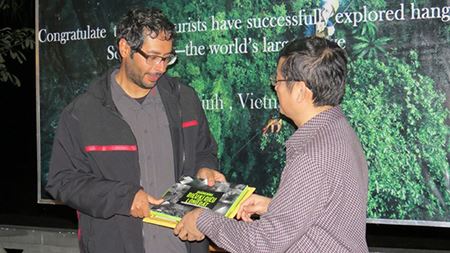 According to the organizers, despite being an important person of the United Arab Emirates, Crown Prince Sheikh bin Zayed bin Sultan Al Nahyan has taken the dangerous adventure tour to discover Son Doong cave and follow strict regulations of this tour.
Mr. Tran Tien Dung, Vice Chairman of Quang Binh Province awarded the Crown Prince of the United Arab Emirates certificate for conquering Son Doong at the party.
Finishing the discovering journey, the Crown Prince along with four entourages repeatedly praised the beauty of Son Doong and the friendliness of the local people.
Reportedly, among seven countries of the United Arab Emirates, Abu Dhabi is the largest, most prosperous and most populous country. The Crown Prince Sheikh bin Zayed bin Sultan Al Nahyan (born in 1969) is famous not only for the rich as well as the collections of cars, luxury yachts but also being a dangerous adventure enthusiast.
Speaking at the party, the Crown Prince Sheikh bin Zayed bin Sultan Al Nahyan said this is the most meaningful trip of his around the world tours. Previously, he could not imagine that there was a huge and mysterious cave like that in the world. The experiences through his discovery can not described in words. For a while he feels he has reached the limits of nature.
He has the idea of introducing this cave on reputed newspapers in Arab as well as for his friends all over the world. At the same time, he will soon take his family to visit Son Doong in the most recent day.
Source : Tien Phong - Translated by Trinh Ha (SonDoongCave.org)
---
Other Lastest News About Son Doong cave
Ho Khanh, a local farmer and biggest cave in the world
Experts recommend that Son Doong cave not be opened to tourists
World's largest grotto unveiled in Vietnam
---
View more Detail about Son Doong cave, Cave exploring trips, View Detail map, Videos, All Photos & gallery, How to get there Son Doong Cave, News about Son Doong cave.